Simulation games are a big deal on mobile. The category encompasses a variety of subgenres like city builders and tycoon sims, with notable titles including cross-platform sandbox MMO Roblox, Playrix's city building and farming sim Township, and Melsoft's survive-and-thrive sim Family Island.
While you could say all games are 'simulations' of something, the genre is defined by replicating real-world, often everyday activities. It ranges from seemingly mundane tasks like getting dressed, or power-washing a driveway – to worlds like Roblox that offer a high degree of creative freedom and autonomy (where a simulation of – what else? – working at a pizza place has become one of the most popular games).
Simulation games feature some of the hottest trends in mobile: user-generated content and hybridcasual mechanics. With such a broad scope, we've broken down the state of the market, and how developers can scale these titles in a post-App Tracking Transparency (ATT) landscape.
The State of Simulation
Simulation games surpassed Puzzle as the No.3 genre by global downloads in 2022, generating 4.8 billion installs across the App Store and Google Play. While that was flat year-over-year (YoY), seven of the top 10 genres saw a decline in downloads YoY. That puts Simulation in a unique position amongst the top genres. It's a consistent market in a turbulent time for the industry — brought about by Apple's deprecation of its identifier for advertisers (IDFA) and introduction of app tracking transparency (ATT).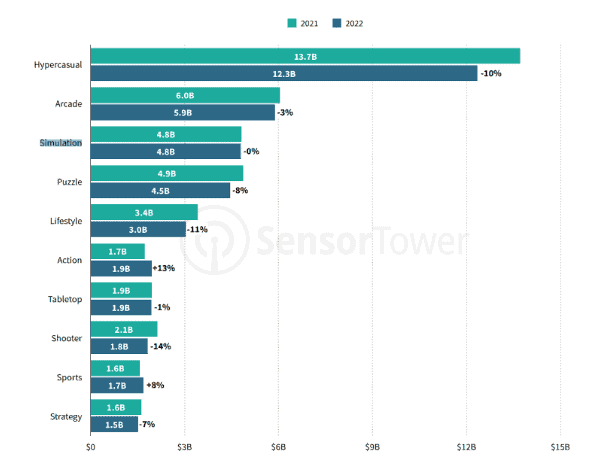 Simulation's ascension in the rankings, according to Sensor Tower, springs from the integration of hybridcasual mechanics into Simulators, Sandbox, and Tycoon or Crafting games. An evolution of hypercasual, hybridcasual aims to use many of the simple mechanics that made that genre successful, while adding slightly deeper progression systems and giving in-app purchases greater weight (reducing the role of ads as the chief revenue generator).
Meanwhile, Simulation games accumulated $4.5 billion from player spending worldwide, ranking as the No. 6 revenue-generating genre, above Action, Sports, and Arcade. While that represented a decline of 9% YoY, all of the top six genres experienced yearly declines, with revenue for Shooters – ranking No. 5 – falling by 22% YoY to $4.6 billion.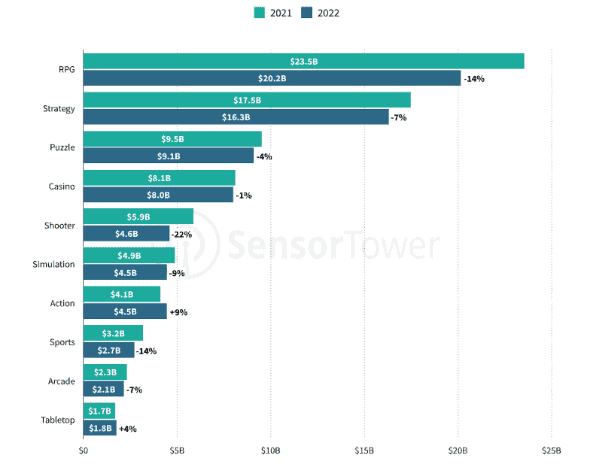 Growing Your Game Post-ATT
In a privacy-first, post-ATT market, scaling games has become an entirely new beast. The free-to-play mobile games market was built on profitable user acquisition campaigns. Now that App Store privacy rules have eroded those foundations, marketers need new strategies.
In the past, Google and Facebook were the obvious go-to channels for UA. They still have a part to play, of course. When it comes to scaling Simulation games, developers should utilize other networks too. The top two to consider are Unity Ads – a powerful solution that lets you set strict limits for costs per install – and video-sharing behemoth TikTok, which is fast becoming a significant ecosystem for game companies. Following this, Facebook and Google maintain sizable reach, while Apple Search can also be useful for running campaigns on iOS.
Marketing teams should target a diverse range of channels for their UA, and it's worth ranking different networks in tiers, depending on your aims and the game genre. Different channels have their pros and cons and can perform better for different audiences.
For Simulation games, running US-focused campaigns across Unity Ads, TikTok, Facebook, and Google is a good place to start. If that's successful, you can start diversifying and rolling out to other networks, like Vungle, IronSource, and Chartboost. Just be sure to constantly check performance so you're getting the best return on investment.
Scaling Simulation Games
To run a successful UA campaign for your Simulation game, there are three key things you need to keep in mind:
Budget
Perhaps the most crucial part is understanding your budget. This will impact where and how you conduct your UA campaigns. The minimum recommended budget for Unity Ads, or any large ad network, is $500 per day, per campaign, per geo. So if you're promoting your game in 10 countries, you'll need a budget of $5,000 per day at least to get the most out of the network. To maximize your investment potential, it's a good idea to start in the US market – a key country likely to drive revenue – and scale from there by applying your learnings to other countries.
For small developers on a tight budget, we'd recommend sticking with Facebook and Google, where you can work with smaller investments but still get results.
Apple's IDFA deprecation has been tough on marketers, making it much harder to accurately target players' preferences and characteristics at scale. Developers need to ensure that, for iOS, they're running predictions to know if their marketing activities are going to be profitable. Without that, it's not a good idea to scale up a campaign, as you won't know the real ROI.
Creatives
You could have the best performance marketer in the world, but without the right approach to creatives, campaigns will end up bleeding significant investment with small returns. The best marketing campaigns are run by teams that can support UA on a consistent, weekly basis and constantly refresh creatives.
Just five to six years ago developers could simply show gameplay footage. Today, creatives are much more complex. It takes dozens of attempts to find a top-performing ad for your target audience, and new creative strategies need to be adopted across various channels. For example, placements on the Facebook News Feed will need to be different from those on Instagram Stories and other networks.
Optimize and Iterate
On that last point – optimizing your creatives – how you approach your UA campaigns and which channels you use is critical. Part of this is analyzing the strategies of competitors targeting a similar genre and/or audience. This will help you identify successful ad campaigns and channels that are the most relevant to your title. You should optimize creatives regularly to make sure they stay relevant, and stay on top of national and global celebrations and seasons, which could call for a different strategy to maximize their impact.
While Simulation is a broad genre so you'll need to test and iterate what creative types work best, playable ads are particularly effective for the more complex titles in the genre. This is an effective method of relaying the core gameplay features as simply as possible and much more impactful than simple gameplay footage. These campaigns can also be supported with video ads that are usable across Facebook, Unity Ads, and other networks.
Ready For Launch
ATT has changed the dynamics of UA on mobile, and consequently, shifted the foundations the entire industry has been built upon. It's not impossible to scale a game in the new market, but it is a lot more challenging. It requires regular iterations of creatives, an eye on the top marketing trends, and, with Facebook and Google no longer the de facto kings of UA, diversifying the channels you use. On the plus side, the data shows that Simulation is one of the genres with enduring appeal and success despite the impact of ATT. So whether your Simulation game involves mowing the lawn or running a business empire, the opportunity to grow it is there for the taking.